With our rolling machine for chimney cake roll the dough evenly and quickly via touch of a button on the backing roll.This saves you the trouble of rolling up the dough by hand.
REVOLUTIONIZE YOUR CHIMNEY CAKE BUSINESS WITH OUR ROLLING MACHINE FOR CHIMNEY CAKE DOUGH
PATENTED  – Only available from us in direct sales! –
Our rolling machine is a unique in the world! – Small, fine and just awesome! -Even when rolling highest efficiency!
No elaborate rolling up by hand necessary, save physical effort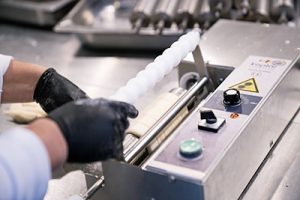 PRODUCTIVITY: APPROX. 6-8 SEC./ PIECE
UNIQUE -Wake curiosity at your customersINCREASES PRODUCTIVITY – You can roll up the individual baking rolls very quickly, without any physical effortREQUIRES VERY LITTLE SPACE – suitable everywhere, where conventional manual work is difficult to execute because of to lack of space -YOU SAFE STAFF COSTSALSO SUITABLE FOR CONICAL ROLLS AND TRDELNIK
There is an associated roll-up unit for various baking rolls such as wooden baking rolls, conical baking rolls or stainless-steel baking rollsSo it's easy!
Set the desired speed
roll the dough evenly and quickly at the touch of a button on the baking roll

you can also unroll the dough to correct yourself – use the green button to unroll the rolled-up dough again

The finished chimney cake are like handmade
When you step on the foot switch, the axis of the rotary engine starts to turn and the device is ready for use.The device is stopped by lifting your foot off the foot switch. You can stop at any time if you want.

Declaration of conformityProducts marked with this symbol comply with all applicable Community regulations of the European Economic Area

The device corresponds to EC Regulation 1935/2004 on materials and articles intended to come into contact with food. All components that are in contact with processed food are produced from materials that correspond to the respective regulations.
Technical data
Artikelnummer:
0242
Voltage:
Available with  230V  and 110V
Power:
25 W
Degree of protection:
IPX3
Sound pressure level
< 70 dB(A)
Frequenz
50/60Hz
Width:
485 mm
Depth:
210 mm
Height:
104 mm
Weight:
5600 g
Material:
Case: brushed stainless steel

Rollers: POMC or/ and stainless steel
2 years warranty
---
Recommended accessories:
Strip cutter for chimney cake dough (patent pending)
We have the traditional conical baking rolls made of wood / beech, stainless steel baking rollers and the stainless steel Teflon baking rollers only available from us
---
We also offer business specials that are very suitable for big events or ice cream concepts.
---
We recommend our premium chimney cake baking mixes
Our chimney cake baking mix is ​​made from pure natural ingredients and high-quality raw materials according to a recipe from the Seklerland.
Only water, oil and yeast are mixed in for production.