With the KP10E chimney cake oven you can quickly and easily make up to 10 crispy, hot chimney cake oven at once.
Electrical high-performance device for the production of chimney cake
We focus on quality – our devices work with a high-precision temperature controller, without susceptible digital heating power controllers
!! Contrary to popular misinformation, you don't need different temperatures for different bun sizes or flavors. All of our appliances allow you to bake all types and sizes of chimney cake without having to adjust the appliance each time.
KP10E is our bestseller in winter. Why?
Because the KP10E is very compact and extremely productive, probably the fastest 380V chimney cake oven oven on the market!
 OUR TOPSELLER IN WINTER
The ideal chimney cake oven oven for events, festivals, food trucks and Christmas markets
REPOSITIONING THE BAKING ROLLS IS NOT NECESSARY
No loss of time due to the annoyance of moving the baking rolls (you save unnecessary work steps)
High-performance baking oven for professional use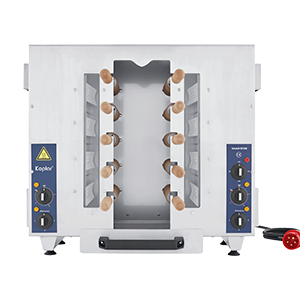 Baking times: 3-4 minutes
Capacity: approx. 130 pieces/hour
Ready to use in only 2 minutes
Also suitable for chimney cone
WITHOUT DOOR – EASY TO USE 
 ALSO FOR CHRISTMAS MARKETS AND EVENTS
 PERFECT CARAMELIZATION 
Thanks to the concentrated heat distribution you can bake much faster than with a conventional chimney cake oven.
-Permanently short baking times – even in continuous operation or in winter at lower ambient temperatures –
Main characteristics
Overheating protection
Self-cleaning ceramic heating elements – do not require any additional cleaning or maintenance-
Removable drip pan with heat-resistant handle
Removable panorama panes for thorough cleaning
Low heat and power losses in continuous operation
Height-adjustable plastic feet – With the height-adjustable feet, you can ensure that the device is stable and secure on uneven surfaces
Separately switchable heating zones
Modern design, with traditional and ergonomically arranged controls on the front, easy to control and the settings easy to read
Made of high quality stainless steel -> Does not deform at high temperature
---
Technical data
Artikelnummer:
103801
Voltage:
380-400V
Power:
7300 W
Degree of protection:
IPX3
Sound pressure level
< 70 dB(A)
Frequenz
50/60Hz
Width:
760 mm
Depth:
445 mm
Height:
658 mm
Weight:
49 kg
Material:
brushed stainless steel
---
 KP10E chimney cake oven 380-400V in a set:
KP10E chimney cake oven
20 baking rolls
Rack for 20 baking rolls
 – Including training –
---
Recommended accessories:
Dough cutter
Rolling machine (patented)
chimney cake dough strip cutter(patented)
We have the traditional conical baking rolls made of wood / beech, stainless steel baking rollers and the stainless steel Teflon baking rollers only available from us
---
We recommend our premium chimney cake baking mixes
Our chimney cake baking mix is ​​made from pure natural ingredients and high-quality raw materials according to a recipe from the Seklerland.
Only water, oil and yeast are mixed in for production.
Without enzymes
Without additives
Without fat powder
Without preservatives – Without E numbers