With our large rack for chimney cake flavors you can easily place the flavors anywhere
***Flavors on 2 floors***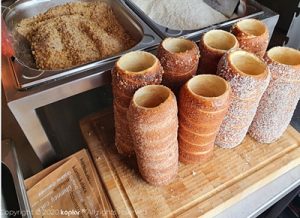 Space-saving, the toppings are placed on top of each other so that you can split up your work space sensibly.
***Everything is ready to hand***
Our large rack for chimney cake flavors  is suitable for 1/3 or 2/3 GN containers (!without GN-container)
Premium equipment
NOT JUST A SHEET – HIGH QUALITY – FUNCTIONAL – ROBUST
High quality processed material
No sharp edges!
Welded, not screwed together
Durable, does not deform
Robust, does not wobble
Space saving
Hygienic – easy to clean
Stainless steel is a durable material. It does not absorb any smells or tastes and can be cleaned easily and without leaving any residue. These properties make it particularly suitable for food processing.
---
Technical specifications
Item number: 2006
Width: 575 mm
Depth: 390 mm
Height: 425 mm
Weight: 6000 g
Material: brushed stainless steel

The product corresponds to EC Regulation 1935/2004 on materials and articles intended to come into contact with food. All components that are in contact with processed food are produced from materials that correspond to the respective regulations.
---
Recommended accessories:
Dough cutter
Rolling machine (patent pending)
chimney cake dough strip cutter(patent pending)
We have the traditional conical baking rolls made of wood / beech, stainless steel baking rollers and the stainless steel Teflon baking rollers only available from us
---
We recommend our premium chimney cake baking mixes
Our chimney cake baking mix is ​​made from pure natural ingredients and high-quality raw materials according to a recipe from the Seklerland.
Only water, oil and yeast are mixed in for production.